Le Littré hotel, a real hotel for families in Paris
Le Littré hotel, one of the last family and independent hotels in Paris
What do all tourists dream of? To visit the Eiffel Tower and feel at home on the other side of the world. This dream becomes reality with the hotel Le Littré, a hotel definitely turned towards families in Paris. Indeed, the hotel has kept a family soul since its creation in 1924. Unlike a hotel chain run by investors, Le Littré has been in the hands of the same family for three generations. A true family history that is reflected in the philosophy of the hotel, to the delight of our guests: the family spirit is at the heart of our hotel.
The Littré is thus a unique hotel by its history, its soul and its decoration. The rooms are far from being the same, a varied and warm palette of colors awaits you: something to surprise you. Reflecting the decoration, the customer experience is the priority of the House: personalized and always in search of excellence. These are the essential foundations that make Le Littré the family hotel in Paris, by essence. 
See life in pink with the hotel Le Littré.
A hotel for families in Paris thanks to our family rooms ideal for children and adults
Our independent hotel located in a small street near the Montparnasse train station houses 90 rooms of distinct sizes to meet the needs of every traveler. 
Among the hotel's 6 room categories, we have family rooms for 4 people in Paris, which can easily accommodate 2 adults and 2 children. The hotel Le Littré is indeed committed to welcoming large families during their stay. To do so, some of these rooms are connected to suites, rooms similar to large Parisian apartments with parquet floors. The combination of these 2 categories of rooms is the ideal solution to welcome the whole family and allow them to be side by side during their stay.
With a double bed and a sofa bed for the children, the Deluxe Family Rooms allow parents to keep an eye on their children. These perfectly bright and spacious rooms are a real living space that offers maximum comfort, in a space ranging from 30 to 35 m². With these rooms communicating with the children's room, you are all together in comfortable spaces, allowing everyone to rest in peace but also to share moments of common life.
As you can see, the Littré is the family hotel in Paris par excellence. However, if you wish to enjoy the city of Paris as a couple or with adults during an evening at the theater or in one of the restaurants in the neighborhood while your children are sleeping, call on our babysitting service from our concierge. Your children will be safe and sound for a new day.
The right facilities and services for family stays
The family spirit of Le Littré hotel is reflected in our welcome, our activities, our spirit and our facilities and services.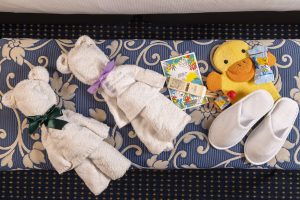 Did your children forget their favorite teddy bear? Don't panic, our team dedicated to the well-being and comfort of children will not fail to replace their travel companion with teddy bears lovingly crafted by our governance team. 
Amenities are not just for adults! Coloring books with carefully selected crayons can be left in the room for the duration of the stay. Perfect to help your children pass the time in a calm and concentrated way, especially when you are getting ready for your evening. Take advantage of the bath products, with a composition adapted to children, which combine comfort and reassurance thanks to their playful packaging: your children will no longer be reluctant to take a bath!
No more staying at home with small children, travel in complete freedom, because we have baby beds available. In fact, in the family rooms or other rooms, baby cots can be made available on request. Comfortable from the moment you arrive, to your room and the free breakfast, our family hotel is fully equipped. You will find high chairs so that your children can enjoy the first meal of the day with the whole family. Thanks to our wide choice of all-you-can-eat buffet, your children will not lack vitamins thanks to fruits and fruit juices, dairy products for calcium and vitamin D, and cereals and pastries rich in minerals and carbohydrates.
To please is the value of the hotel Le Littré as well as the will to feel like in a second home, if your birthday or the birthday of your child takes place during your stay we do our best to offer you a personalized welcome. For children, small gifts such as toys can be offered.
Finally, if your child's birthday is approaching, our hotel offers you the opportunity to organize this happy event in our spacious, bright family dining room. Located not far from the hotel's entrance, it is easily accessible to the guests but remains preserved, in a quiet place thanks to the stairs that lead directly to the heart of the room, all in a friendly atmosphere. 
A family spirit spreads through the candles blown out at Le Littré Hotel
Easter vacations in a family hotel in Paris
Easter is the ultimate family celebration. If you have planned to come to Paris with your children, this is the perfect time to introduce them to the City of Light in a fun and entertaining way. A pony ride in the heart of the Jardin du Luxembourg, only a 10-minute walk from the hotel, an egg hunt in the capital rewarded with delicious chocolates, a tasting of the creations of Parisian chocolatiers, marveling and rediscovering your childhood soul in front of the Lion King show or a day at Disneyland…multiple activities are accessible from our family hotel in Paris. You will find a list of our monthly recommendations of activities, restaurants, shows and places to visit with your family for the month of April directly at the reception of our hotel or by subscribing to our Newsletter.