The Hotel Le Littré welcomed the shooting of Timéo Béasse's video in a room with a view on the Eiffel Tower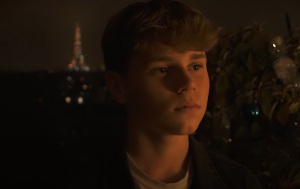 Singer from the Mayenne region of France, Timéo Béasse revealed the potential of his voice in season 7 of The Voice Kids. Since then, he has multiplied his artistic projects, making appearances on the Disney Channel with the My Descendant talent show in 2019 or in the single Hey vous les grands with Zoé Clauzure, also a young singer of the Voice Kids. Since then he is working on his first and own album.
Last week we had the pleasure to welcome Timéo Béasse and all his team for the realization of the video clip of his new song "Âmes d'enfants".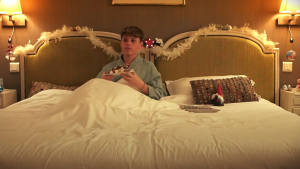 Timéo Béasse had the privilege to shoot some incredible scenes in our executive room 804 with a breathtaking view of the famous Eiffel Tower. Full of charm, our Eiffel Tower Terrace Executive Room consists of an entrance with a dressing room.
The colors of the room give way to a combination of harmony and balance. Indeed, did you know that green acts positively on the nervous system by bringing a feeling of relaxation and comfort when entering the room. You can't help but feel relaxed after spending a comfortable night at Le Littré.
Everything is carefully arranged and equipped for optimal comfort (coffee machine, tea, mini bar …) The bathroom is equipped with a marble basin, and a large bathtub. The great advantage of this room is that it is a large terrace overlooking the rooftops of Paris and the majestic Eiffel Tower.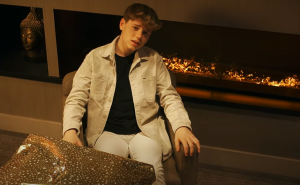 As you can see in the clip, Timéo is sitting comfortably in our lounge 9! Cosy, calm and warm, this lounge is the ultimate place to relax for our dear clients with its artificial fireplace and reading corner where it is nice to sit. The lounge 9 is also an ideal place available for rental (half day or full day) for corporate meetings and seminars.
 The production team, Timéo and myself would like to thank you warmly for your welcome during our shooting.
Dimitri Lebugle, Producer

Curious to discover the young talent? Discover his official clip, shot in our room 804 and in our lounge 9 !