Hotel Le Littré welcomes Nobel Prize winner in literature
A long life story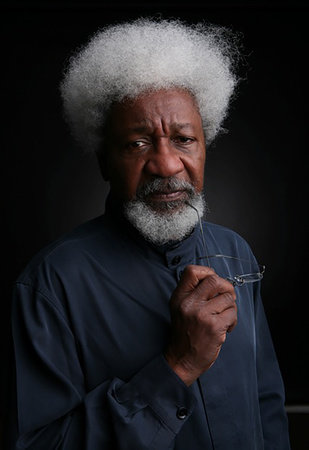 Playwright, essayist, poet, novelist and political activist, Soyinka Wole is known as the first African author to win the Nobel Prize for Literature, which he received in 1986.
Having grown up in Aké (Bella Kota), he uses the experience of where it all began to write his autobiography. From an early age, he was imbued with all the world's knowledge. He sees with his child's eyes: a mixture of all his precious memories, all the people he has come into contact with, his culture and political ideas. He was fascinated by his father's world, from which he drew the devotion of his commitment, particularly to Isara, his father's village. 
After studying literature in England, he began his career as a playwright, founding several theater companies, including the 1960 Masks Drama Troupe. He describes theater as a moving, exhilarating and spiritual experience. His plays include Le Lion et la Perle (1959), La Danse de la Forêt (1960) and Les Tribulations de Frère Jéro (1959). With more than one string to his bow, he mastered the full range of literary styles, drawing his creativity from outside the university context. 
His political dedication, an integral part of his life, is remarkable. Indeed, he supported the independence movement in Biafra, a state in south-eastern Nigeria, a commitment that led to two years' imprisonment and exile. Between his imprisonment and exile, he taught at the university, where he left an indelible mark that benefited his students. He uses his culture to show its richness through the study of literature. ,When he was awarded the Nobel Prize, he represented his country in traditional dress, defending Nelson Mandela, who was imprisoned at the time, and asserting his political aspirations and intellectual convictions.
Soyinka Wole at the Hôtel Le Littré
The author travels the world to give interviews and lectures. The Hôtel Le Littré has played host to media figures including film-makers, writers and actors. The writer stayed at our establishment to give an interview for the magazine La Croix Hebdo on the occasion of the release of his latest novel in August 2023, which will be published shortly.
Indeed, his long-awaited latest novel, Les chroniques du pays des gens les plus heureux du monde, was published in 2023, after a hiatus of half a century. He denounces the corruption of the elites through two friends who face a journey fraught with pitfalls. Doctor Menka faces the harsh reality of organ trafficking, while his oldest friend, Durole Payne, is destined for a prestigious position at the United Nations. But his enemies seem determined to stop him. This novel marks the author's return to the international stage and establishes him as a political activist. 
His works have always been the marker of his political ideas, in which he denounces colonialism, corruption and the trampling of individual and collective freedoms. He also recounts his own experiences through his autobiography, Aké the years of childhood, a best-selling book that is now studied in preparatory classes. He uses all literary styles to communicate the complexity of his thinking, publishing essays as well as poems rich in the history and culture of his people.
Soyinka Wole is "The writer who stages a dramatic representation of existence in a vast cultural perspective enriched by poetic resonances".