What to do in Paris in September?
September Paris Tourist Guide from Hôtel Le Littré
What to do in Paris in September? Every month, the team at Hotel Le Littré in Paris shares its recommendations to make your stay in Paris truly memorable. We keep you informed about the most captivating temporary exhibitions, must-attend events, entertaining family activities, and, of course, the best gastronomic addresses to tantalize your taste buds at the beginning of autumn.
Are you wondering about activities in Paris in September? If you need additional advice or assistance with activity bookings, please don't hesitate to contact our concierge. It's important to note that this service is exclusively reserved for guests of our establishment.
Immersive exhibitions :
Titanic Museum:
It's the most famous shipwreck in history: the Titanic is currently on display at Paris Expo Porte de Versailles. The immersive and educational exhibition features over 260 items. Over time, visitors can explore the stories of more than 200 passengers, relics, and authentic objects recovered after the sinking. There is also a life-size replica of the grand and renowned staircase of the ship.
Address: 1 Place de la Porte de Versailles, 15th arrondissement
Metro 12: direction Mairie d'Issy, stop at Porte de Versailles.
Price: children's ticket: €19, full ticket: €24 and VIP ticket: €35
Date: until September 10
Further information: Click here!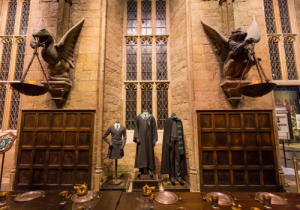 Harry Potter is in Paris :
The exhibition, claiming to be both itinerant and interactive, invites you to step behind the scenes of the world of the famous wizards. You can thus explore the iconic scenes from the series, the characters, the authentic costumes, and the places born from J.K. Rowling's imagination. You can also try playing Quidditch or potting a mandrake!
Address: 1 Place de la Porte de Versailles, 15th arrondissement.*
Metro 12: direction Mairie d'Issy, stop at Porte de Versailles.
Price: 3 to 15 years: €19, 16 years and over: €25
Date: until October 15
For further information: Click here!
Enjoy the end of summer:
Rent a boat on the canals of Paris:
Become a sailor aboard small electric boats without a license! With family, friends or lovers, these little boats are the perfect way to discover the canals of Paris. As you cruise along the Bassin de la Villette, the Canal Saint Martin and the Canal de L'Ourcq, you'll pass under footbridges dating back to the 19th century, and you can even take advantage of the children's play areas on the Canal de l'Ourcq.
Address: 37 Quai de la Seine, 19th arrondissement (boat departure point)
Metro 4: towards Porte de Clignancourt and stop at Gare de l'Est, then Metro 7, towards La Courneuve and stop at Stalingrad.
Price: €40-90, depending on rental duration (from 1 hour to a full day)
Try Bachir's delicious ice creams:
Bachir is the most famous organic Lebanese ice-cream parlour in Paris, and has not stolen its success. You often have to be patient to taste the house specialty: the famous achta ice cream (milk flower coated with crushed pistachios), but it's worth it. And with extra whipped cream for those with a sweet tooth!
58 Rue Rambuteau, 75003 Paris & 7 Rue Tardieu, 75018 Paris.
Come and discover one of the most beautiful rooftops in Paris:
On a fine late summer afternoon, you're on a shopping spree at Printemps on Boulevard Haussmann, and you'd like to stop off for a while? Take to the skies! That's where the Perruche Paris rooftop opens its doors to you, with its 500 m² garden offering a breathtaking view of the Opéra Garnier.
Printemps de l'homme, 2 Rue du Havre 9th floor, 75009 Paris
Our favourite addresses:
The little restaurant "Au bon accueil
How about dinner tonight with your beloved, in a typical French restaurant, with the Eiffel Tower as a backdrop? On the menu: fine market cuisine, accompanied by a selection of wines and cheeses from small French wine producers. This address is only open on weekdays, so we advise you to make a reservation!
Address: 14 rue de Monttessuy, 7th arrondissement
Bus 92: direction Porte de Champerret and stop at Bosquet – Saint-Dominique
Price: menu between €26 and €45
The great French bouillons: Bouillon Pigalle, Bouillon Chartier and Bouillon République:
The Bouillon de Pigalle brasserie is a symbol of 19th-century Parisian restaurants. From midday to midnight, typical dishes are served: eggs mayonnaise, onion soup, escargots, brandade de morue, îles flottante, choux chantilly… It's the ideal place to eat well and cheaply. And don't forget Bouillon Chartier Montparnasse, just 3 minutes from the hotel!
Address: 22 Bd de Clichy, 75018 Paris
Metro 12: towards Mairie d'Aubervilliers and stop at Pigalle
Price: approx. €15 starter main course dessert
If the rain comes :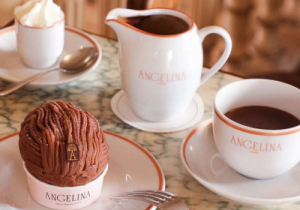 Chez Angelina
If it's raining, step into Café Angelina. It's the ideal address when you're feeling greedy. Good pastries and hot chocolate await you! There's also Mademoiselle Angelina near the Luxembourg Gardens. Same concept, close to the hotel.
Address: 226 rue de Rivoli, 1st

Metro 12: towards Mairie d'Issy, stop at Concorde.

Price: Breakfast formula €20, brunch €40
Discover the Serres d'Auteuil :
Want to enjoy the warmth of the tropics right in the heart of Paris? Immerse yourself in the atmosphere of the tropical greenhouses of the Jardin des Serres d'Auteuil. Cactus, lianas, ferns, orchids, climbing plants, palms, banana trees and other exotic plants guarantee a change of scenery and a chance to escape the rain for a while!
Address: 3 Av. de la Porte d'Auteuil, 16e

Metro 10, direction Boulogne and stop at Porte d'Auteuil

Price: Free of charge

Visit the fascinating Arab World Institute:
Opposite the Pont de Sully, you can't miss the bold mass of glass and aluminum that is the Institut du Monde Arabe. Inside, its museum presents the history of the Arab world, going all the way back to prehistoric times. There are also Arab music concerts and a large library. On the 9th floor, we recommend the terrace, which offers a fabulous view of the city, including Notre-Dame Cathedral.
Address: 1 Rue des Fossés Saint-Bernard, 5e

Bus 89, direction Porte de France and stop at Institut du Monde Arabe

Price: €26 full price, €18 reduced price, €12 child ticket